Capacity
Space
Capacity
Whole house
90
Garden marquee
 56 lecture style
42 at tables
Video room
35 lecture style
16 at tables
Video room & exhibition room
 80 lecture style
Meeting room
 25 lecture style
15 at tables
Dining room
50 lecture style
20 at tables
Times
Events may be held 9am – 11:30pm on Mondays and Tuesdays, or 5:30pm – 11:30pm Wednesdays to Sundays.
Refreshments & catering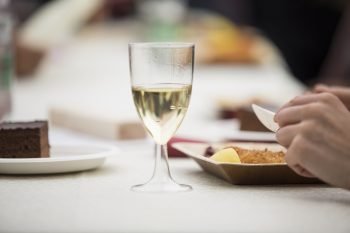 The museum has a private kitchen for events, equipped with a fridge, electric oven and hob, microwave and limited cutlery and glasses.
A Nespresso machine is also available. We charge £2 per coffee & £1.80 per tea.
We have a list of catering companies.
Please contact us if you would like advice on:
Caterers
Hire equipment
Flowers
Equipment
We can offer the following equipment to support your event:
AV system
PA system (for outdoor events)
Laptop and data projector
Microphones and recording equipment
55″ and 40″ LED TVs
Blu-Ray/DVD player
Two flip charts and one whiteboard
Stage
Lectern
Accessibility
The ground floor is wheelchair accessible. Wheelchair access to the garden is via the staff car park. We regret that we do not currently have a lift giving access to the first floor (meeting and video rooms), or a wheelchair accessible toilet.
For more information please visit our accessibility page.
Risk assessment
A venue risk assessment is available on request. However, we recommend that you visit the venue in advance.