Our versatile meeting spaces can accommodate up to 80 delegates.
Delegates have access to the whole museum, including Freud's extraordinary study.
Video room
Once Freud's sister-in-law's bedroom, the video room is a comfortable space for talks and seminars. It boasts a state-of-the-art AV system, including a HD projector.
Seats up to 35 delegates (lecture style), or up to 16 at tables.
Video & exhibition room
The dividing wall between these two rooms folds away, making a larger space with the same high quality AV provision. It can be fitted with a raised stage for visibility.
Seats up to 80 delegates (lecture style), depending on the current exhibition.
Meeting room
Tucked away from the public area of the house, our recently upgraded meeting room is a versatile space, equipped with a 55″ LED TV which is ideal for presentations. Perfect for meetings and away days.
Seats up to 25 delegates (lecture style) or up to 15 at tables.
Dining room
Right in the heart of the house, the dining room offers easy access to both the garden and the study. The room can be equipped with a 40″ LED TV for presentations.
Seats up to 50 (lecture style) or up to 20 at tables.
Garden
Nestled between the trees and maintained just as Freud would have known it, our leafy garden is a tranquil space to think.
We have a marquee (8m x 5m) with lighting and ceiling heaters, which can be joined on to the house.
The marquee seats up to 56 delegates (lecture style), or 42 guests at tables.
Refreshments & Catering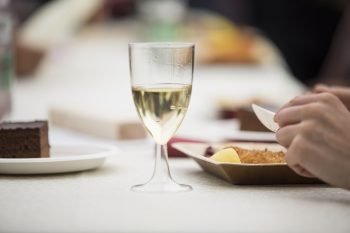 The museum has a private kitchen for events, equipped with:
Fridge
Electric oven
Microwave oven
Hob
Limited cutlery and glasses
A Nespresso machine is also available. We charge £1.80 per coffee and £1.60 per tea.
We also have a list of catering companies. Please contact us if you would like advice on caterers, hire equipment, flowers, etc.
Health & Safety
A venue risk assessment is available on request. However, we recommend that you visit the venue in advance.
Equipment
We can offer the following equipment to support your meeting:
AV system
55 inch LED TV
40 inch LED TV
Microphones and recording equipment
Blu-Ray/DVD player
Laptop and data projector
Two flip charts and one whiteboard
Stage
Lectern