The Freud Museum is delighted to welcome Professor Juliet Mitchell to celebrate her latest publication Fratriarchy: The Sibling Trauma and the Law of the Mother (Routledge, 2023).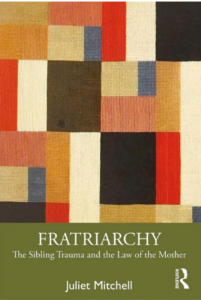 Fratriarchy breaks new ground by arguing that as well as the individualism of the family, we are born into a social world of others. Working with siblings in the social world along a horizontal axis for more than twenty years, Juliet Mitchell describes feminism as political sisterhood and the actual and symbolic sister as missing in fratriarchy – although not in literature.
Her pivotal text argues how the mother's prohibition of her toddler attacking a new or expected sibling is a foundational force structuring our later lateral relationships and social practices. Making use both critically and affirmatively of Freud, Klein, Winnicott, Bion, Pontalis and others, Fratriarchy indicates how the collective social world is a match for the individual family world examined by established psychoanalysis.
Fratriarchy is essential reading for anyone who wants to re-think the ubiquity of unconscious processes. It will also interest students and teachers of social theory, psychoanalysis, group analysis, gender studies and feminism.
This event also marked 50 years since the publication of Psychoanalysis and Feminism. Described by eminent art historian, Briony Fer as "Juliet Mitchell's famously unorthodox book on Freud", this landmark publication in the field argued that feminism needed psychoanalysis in order to understand the oppression of women.
Fratriarchy both builds on and reverses Psychoanalysis and Feminism. Writing as a psychoanalytic practitioner, Juliet Mitchell shows what happens from the ground up when we use feminist questions to probe the psycho-social world and its lateral relations. Fifty years on from Psychoanalysis and Feminism, Fratriarchy now asks psychoanalysis to take on board the developing practices and theories of global feminism.
---
This event took place at the Freud Museum London on 4 October 2023
On stage with Juliet Mitchell was Holly Porter, an anthropologist and associate director of the Gender Studies Centre founded by Mitchell in Cambridge University; Rosemary Davies, a Fellow and Training analyst of the Institute of Psychoanalysis and founder member, Manuel Batsch , with a PhD from Juliet's programme at UCL and now completing his analytic training at the Institute of Psychoanalysis. All four speakers give brief talks then open it to discussion with the audience.
The event was hosted and chaired by Dr Giuseppe Albano, Director of the Freud Museum.