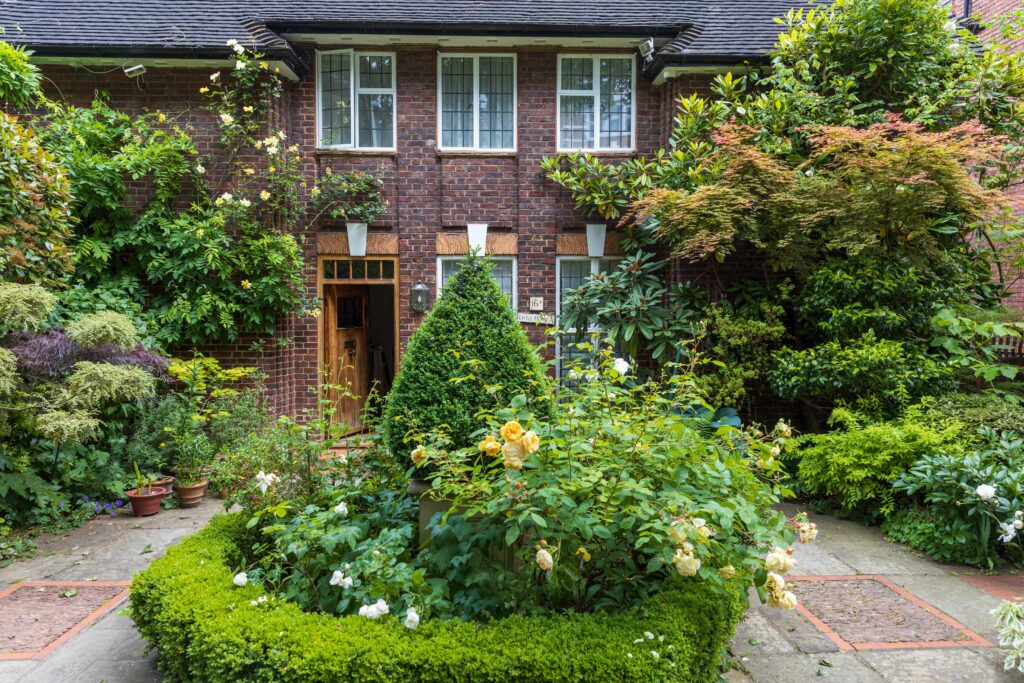 Arts and Craft House
Little House is an Arts and Craft House created for the Danish nobleman and artist, Baron Arild Rosenkrantz, in the mid 1920s. Originally built as two individual flats with separate entrances combined with an internal staircase between the two, Little House served as both a home and a studio for the artist, who was a member of the Anthroposophic Society. He studied in Rome, Paris and the United States before settling in London in 1898. He met the influential Austrian Philosopher, Rudolf Steiner, in 1912 and moved to Switzerland two years later until Steiner died in 1925, when Rosenkrantz returned to London with his wife to live at Little House.
His art, mainly paintings and stained glass, has been described as having a 'dreamy emotional' character. It is deeply infused with colour. Rosenkrantz learnt much about the values of colour from Steiner, who said: 'Colours are the soul of nature and the entire cosmos – and we become part of that soul when we live with the colours.'
Rosenkrantz travelled to Denmark in the autumn of 1939 to organize an exhibition in Copenhagen to commemorate his 70th birthday on 9 April 1940. He was unable to return when the Germans invaded. His relatives at the family ancestral home, Rosenholm Castle in Jutland, offered him a home there. He never returned, his wife dying in 1945 and he in September 1964.
There is no record of whether the two neighbours, Sigmund Freud and Arild Rosencrantz, ever met when their lives briefly crossed between Freud's arrival in London in June 1938 and his death in September 1939, when the artist departed to Denmark.
Garden Restructured and Replanted
The house was converted into a single home in 1999 by Linda Williams (nee Osband) and from the street remains much as it would have been seen by Freud in 1939. The rear has also remained largely untouched apart from the addition of a conservatory, much as Freud did at No. 20. The interior has been changed but retains the two large rooms on the ground and first floors. The first-floor room, with its high ceiling and large windows and skylight, is suspected to have served as his studio.
However, the garden has changed dramatically. The whole garden was completely restructured and replanted in 2002 by Linda and Stephen Williams. Stephen, an architect, understood the importance of creating a garden in keeping with the Arts and Crafts house.
Interestingly, the garden designer and architect, Cecil Ross Pinsent, born in 1884, lived in 16 Maresfield Gardens for the early years of his life and played in its gardens, which at the time would probably have included the land Little House now sits upon. He is well known for the serene gardens he created between 1909 and 1939 in Tuscany. Deeply infused in the concepts of 16th Century Italian Renaissance, he was also much influenced by the Arts and Crafts Movement.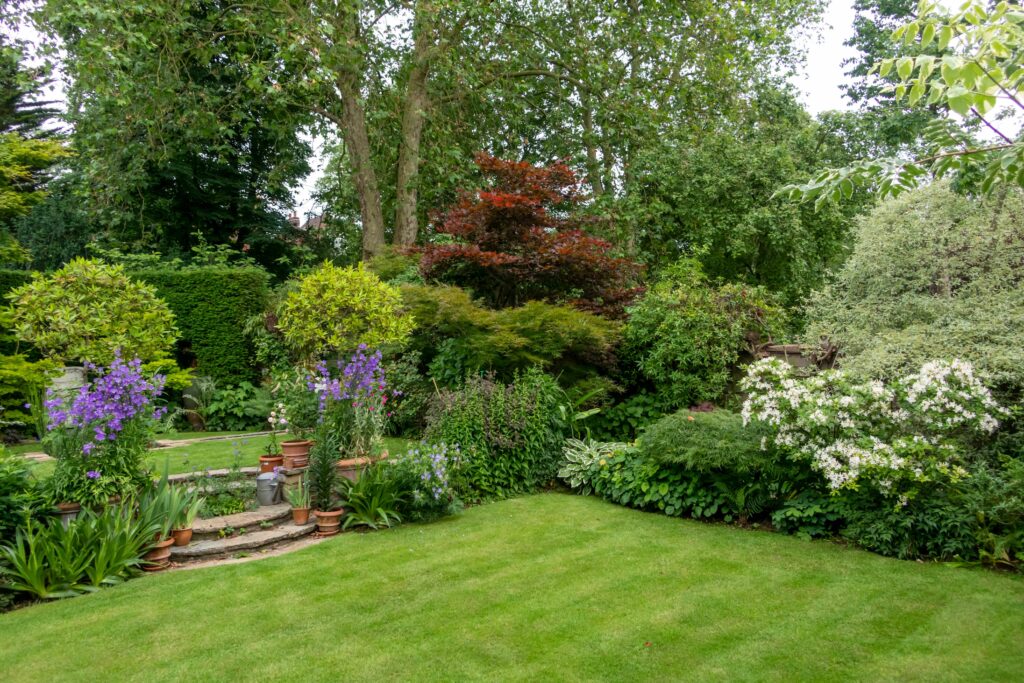 Place of Leisure
The Arts and Craft Movement was a reaction against the formal Victorian Design prevalent at the time. The late 19th Century Arts and Crafts Movement looked in its gardens to move away from geometric formality which relied heavily upon rigid and constricting Classicist principles. Rather than recreating 17th Century formality, gardens were seen as a place of leisure to enjoy as an extension of the house reflecting the fast-changing social developments of the time. Many of the principles of William Robinson of Gravetye Manor were adopted, where plants were chosen for the appropriateness of their location, where the plants' needs were paramount. Picturesque gardens were laid out architecturally, containing imaginative touches such as loggias, pergolas, water features, ornamental pools, statuary, trellised roses, herbaceous and mixed borders, and exotic new introductions from the East. Edwin Lutyens was at the forefront of this movement in collaboration with Gertrude Jekyll. Gardens combined formal layouts with informal planting. Axes and vistas guide you through the garden to find new, unexpected views and features encouraging a journey of discovery.
The garden at Little House follows these principles.
The Front Garden
The front garden is laid out to reflect the formal, symmetrical but unusual façade, which is split equally into thirds. The front door and all the windows are in the central bay with bold blank unfenestrated walls either side allowing roses, magnolia and wisteria to grow unrestricted, so the building is almost hidden in greenery. In the centre of the garden is an octagonal bed with pyramid clipped box in a large stone planter. York stone paving is laid around this bed incorporating patterned 'carpets' created in brick, pebble and terracotta tiles referencing materials and detailing on the house.
There are secret areas of the garden such as the "Fernery" in the front garden to the north side where ferns, hosta, hydrangeas and other shade loving plants can be discovered.
The Rear Garden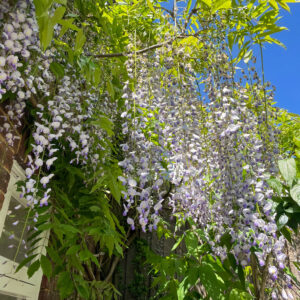 The rear garden has a central lawn set on several terraces with stone terraces reached up circular York stone steps seen in Lutyen's gardens. Alternatively, the rear garden can be reached up a side path passing under a pergola, covered in roses, wisteria and clematis. Passing beneath the oak pergola, new views open across the garden between the small terrace shaded by an old clematis clad Apple Tree up to the terrace in front of a small garden studio. Here a David Harber Chalice gushes water which flows across the garden along a rill to fish-filled pools before flowing down a small stream over small water falls often hidden from sight, until reaching the lower pond where the water disappears into the ground from an Orkney stone fountain. This is a quiet nod to Eastern Zen Gardens as well as referencing the Moorish love of water gardens. Water is an important element, not only visually but also for the sound and aromas with which it fills the garden.
Throughout the garden sculpture can be discovered ranging from pieces by Stephen to Zimbabwe stone carving by internationally known Agnes Nyanhonga and ceramics by Peter Hayes and Philip Simmonds.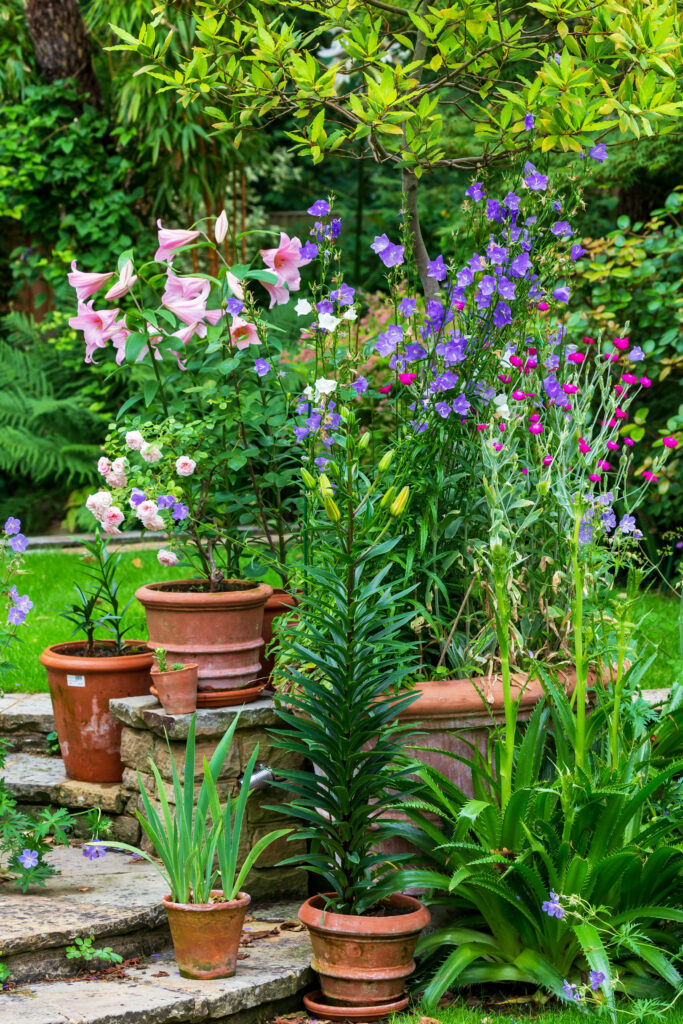 Beds are planted informally with many unusual varieties of shrubs and trees including Japanese Maple, Cornus, Magnolia, Viburnum, Daphne, Tree Paeony, Mahonia, Yew, Roses, Box and Myrtle and many other shrubs and trees. Every day of the year, flowers can be seen but plant form, shape and leaf colour are of equal if greater importance. Many shrubs and trees bring exciting spring and autumn colours particularly the Japanese Maples with a wide range of colours and character in over thirty varieties which grow in the garden. Winter is filled with interest with a wide selection of choice and self-sown hellebores and snowdrops, important plants from January to April. Herbaceous plants intertwine with shrubs while hosta, lily, iris, tulips in terracotta pots are planted in groups. Surrounded by trees, the garden seems far removed from the inner city. The tall, curved yew hedge at the top of the garden, offers possibilities of further gardens beyond the two openings which frame Philip Simmonds' vases.
The Garden at Little House has frequently been described as magical. It offers a place of contemplation and rest within an inner-city location.
Stephen Williams
---
Join us for a summer coffee morning in Sigmund Freud's garden and a visit to Little House A
We continue our popular Kaffee & Kuchen sessions with the story of the Freud family at 20 Maresfield Gardens. While you sip your morning coffee, Freud Museum expert Daniel Bento will share unique insights into the gardens as they were in Freud's time, and Museum Director, Dr Giuseppe Albano, will tell you about how Freud acquired his vast collection of over 2,500 antiquities.
Following the coffee morning, you are invited to an exclusive viewing of the award-winning private gardens of Stephen and Linda Williams at Little House A, 16A Maresfield Gardens.
Please note that the garden visit is only available 10.30am – 12pm.