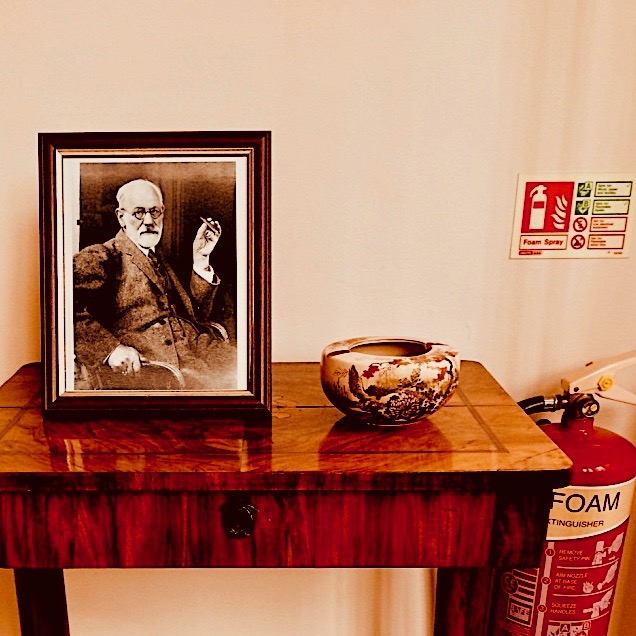 Sometimes a cigar is just a clove, or menthol, or other feminine preoccupation with perfume as a smoke screen.

Sometimes I bite my nails right down to the-

Quickly, behind the Pernod and Gaulois clouds of vintage, analogue dreaming on the south bank of the left bank of the Blue Danube with Sachertorte, Melange, und Memphis ziggaretten-

Only THIS IS NOT VIENNA!

(And certainly not Paris, France.)

THIS IS NOT KOSHER!

THIS IS NOT THE CLASH!

THIS IS NOT LONDON CALLING!

But this is London, Hampstead in the twenty-first-century's third decade

Where punk is now a commodity

And queer is now a commodity

And feminism is now a commodity-

But DON'T SHOUT RAPE SHOUT FIRE!

Even if it's duty free?

And being duty free is possible

If being dutiful is possible

Even if I resolve to give up smoking, because when I smoke so does my child.

DON'T CALL ME A BAD MOTHER!

DON'T CALL ME A BAD DAUGHTER!

DON'T CALL ME!

Don't even text.

Or look at me even.
---
Susan Finlay is the Freud Museum's new Writer-in-Residence. Over the next six months she will be using objects from Freud's collection as associative prompts through which to write about her own, real and fictitious memories. She will produce a series of photographic and textual vignettes.  Some of these will be featured on the blog, and some will be used as the basis for an alternative audio guide. The guide will be read by Sharon Kivland and Lara Pawson, and available to download as an MP3.