What to see when you visit the Freud Museum.
Whether it's a short visit while you're in the area or you have a few hours to spend, here's how to make the most of your visit to the Freud Museum.
If you have just 30 minutes…
Head straight to Sigmund Freud's Study to see the world-famous psychoanalytic couch, along with Freud's desk where he placed his favourite antiquities. You will also see the unusual, anthropomorphic chair that had been designed especially for Freud to accommodate his preferred seating posture, which was to have his legs over one arm of the chair. Preserved just as Freud left it, the Study will transport you back in time to Freud's life in Vienna.
If you have an hour…
Before you visit Sigmund Freud's Study, spend time in the Dining Room and learn about the context to Freud's story and the story of psychoanalysis. Have a look at Edmund Engelman's photos of the Freuds' Viennese apartment Berggasse 19, taken just before the family left Vienna in 1938. You can also see Lucian Freud's drawing, Palm Tree. Anna Freud bought this early work of her nephew's from his first solo exhibition at the Lefevre Gallery in London in 1944. It contrasts with the rustic 18th-century painted furniture in the room, which originally came from Anna Freud and Dorothy Burlingham's country cottage in Hochrotherd, Austria. You will also learn more about who lived at 20 Maresfield Gardens.
If you have 90 minutes…
After visiting the Dining Room and Study, wander upstairs to explore the Freud family tree and photographs on the landing, before proceeding to Anna Freud's Room to learn about her pioneering work on child psychoanalysis and see her couch and collections.
If you have time, do go to the next room and watch the film about the Freud family (20 minutes). With voiceovers from Anna Freud, and a rare recording from an interview with Sigmund Freud, as well as footage from Vienna and London, it is a fascinating glimpse into the life of the founder of psychoanalysis.
Before heading back downstairs, take a look at two paintings on the landing; the first is by Sigmund Freud's patient, Sergei Pankejeffe, known as the Wolf Man, depicting his dream of wolves sitting in a tree. The other is a portrait of Sigmund Freud by the famous surrealist, Salvador Dalí. Find out about our special 2018 exhibition, Freud, Dalí and the Metamorphosis of Narcissus, curated by the renowned art historian, Professor Dawn Ades. You can learn about their meeting in London in 1938 in Professor Ades' article on Dalí's sketches of Freud.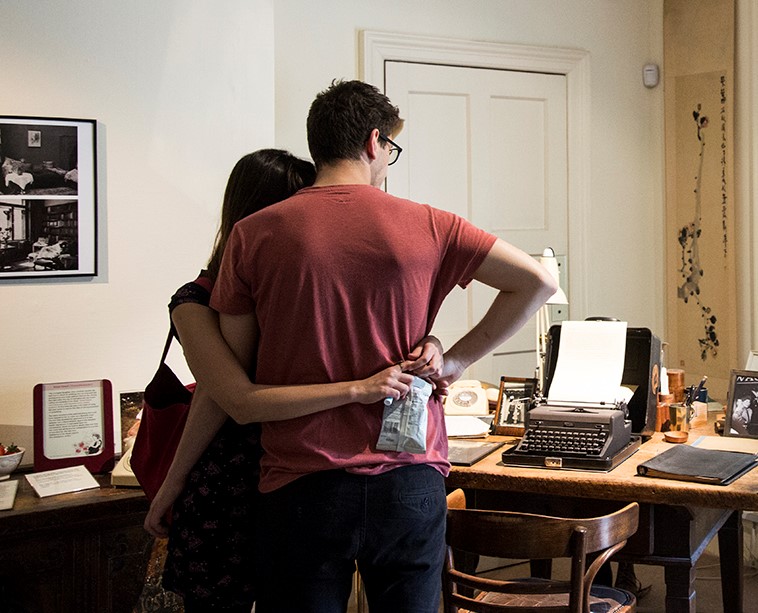 If you have two hours…
This is enough time to explore every room in the house, watch the film and spend time in the exhibition room, where our current temporary exhibition is on. There is also a popular resting spot on the half landing, where you can read up on Freud.
If you have more than two hours…
Take time to explore the Freud Museum at your leisure, visiting all the rooms above, then engage in a little retail therapy in the Gift Shop, or enjoy a cup of coffee. If it's sunny, feel free to sit in Freud's garden.
If you're inspired to delve deeper into all things Freud, book a ticket for one of our many talks, events and courses. You can see what's on here.
Get 20% off all events and courses with Freud Museum Membership, plus you can visit as often as you like for free – and bring a guest! Join now.
Take a House Tour
We have regular House Tours by Freud Museum experts and curators. Topics range from insights into Freud's passion for collecting antiquities, to the family's escape from Nazi-occupied Vienna, a Director's Tour, and 'Behind the Scenes at the Museum'. House tours are on Thursdays and Fridays at 2.30pm. The special Portuguese language tour is on Wednesdays at 2.30pm. Tours are included in the price of admission. No need to book. See here for details.
Virtual Tour
If you can't make it to the museum in person, you can still enjoy a Virtual Tour.