Gradiva Project
William Cobbing's solo exhibition 'Gradiva Project' at The Freud Museum incorporates new sculpture, installation and video that refer to the Gradiva bas-relief displayed in Freud's study. Gradiva is the subject of Wilhelm Jensen's gothic novel, in which a young archaeologist, Hanold, dreams of the bas-relief coming to life from stone only to be buried alive underneath the ash of the AD79 eruption of Vesuvius. Hanold becomes enthralled with her distinctive gait (Gradiva meaning 'beautiful step'), deluding himself that the fantasy of his dream can play out into the reality of his waking hours. Freud was fascinated by the novel's archaeological dream narrative, relating it to his own psychoanalytic enquiry, namely 'burial by repression and excavation by analysis'.
For the exhibition William Cobbing has embossed a copy of the Gradiva bas-relief onto a cast iron manhole cover, installing it in place of the existing cover on the pathway of the Freud Museum's front garden. The motif of the manhole cover represents a portal between exposed and hidden worlds, perhaps echoing Freud's own psychoanalytic musings on the divide between the conscious and unconscious. Elsewhere in the museum Cobbing has created works drawing on Gradiva's narrative of burial, memory and desire. In a series of videos people appear to be buried alive under layers of earthly material, wrestling with each other or their surroundings, to unsettlingly surreal effect.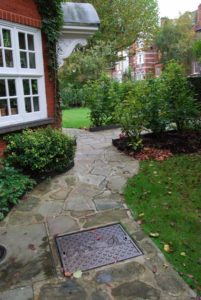 Discretely blended into the domestic space of the museum is an immured figure, buried under layers of concrete and plumbed into a doorway, prompting a sense of a parallel existence behind the walls of the museum.
An exhibition catalogue will be published to coincide with 'Gradiva Project', featuring texts by Jon Bird, Mignon Nixon, Joanne Morra and Rebecca Heald.
Running concurrently with the exhibition at The Freud Museum will be further works from 'Gradiva Project' at Camden Arts Centre. See www.camdenartscentre.org for details.
The exhibition is funded by Henry Moore Foundation, Arts Council England and Central Saint Martins College of Art and Design.
Related Resources
Beth Williamson, The Art Book, 'William Cobbing: Gradiva Project', Volume 15, Issue 3, Aug 2008. pp.23-24
Download a PDF version here
Exhibitions at the Freud Museum often precipitate an experience of the uncanny. It is, in Freud's own words, an 'unheimlich house'. Contemporary works sit amongst the furniture and artefacts in Freud's old London home and we wonder what he might have made of them. William Cobbing's Gradiva Project is no different. Incorporating sculpture, installation and video, it stems from the artist's enduring interest in the plaster cast of Gradiva in Freud's study and the tale with which she is associated. The original basrelief of Gradiva was inspiration for Wilhelm Jensen's 1903 novella, Gradiva: A Pompeian Fantasy. In Jensen's novel, Hanold, a young archaeologist, dreams that the bas-relief comes to life only to be buried alive beneath the ashes of Vesuvius' AD79 eruption. He is obsessed with Gradiva's distinctive gait and deludes himself that his dreamcan take root in reality. When he chances to meet Zoe Bertgang, a childhood friend, archaeological phantasy becomes love story as Hanold's obsession with Gradiva is replaced with his once-repressed love for Bertgang. Jensen's tale became the subject of Freud's 1907 essay, 'Dreams and delusions in Jensen's Gradiva'. In this study Freud famously analysed Hanold's dreams, comparing the archaeological dream narrative to his own field of psychoanalytic investigation.
Gradiva Project began in 2006 after Cobbing won a Helen Chadwick Fellowship at the British School in Rome and his first Gradiva-embossed manhole cover took up temporary residence in the via Gramsci. Later, Cobbing sited another manhole cover, this time in the streets of Pompeii. A new Gradiva manhole cover is a key piece in this exhibition too, situated by the front entrance to the Freud Museum. In the forecourt of the nearby Camden Arts Centre two manhole covers by Cobbing show his interpretation of Andre Masson's images of Gradiva and Ace´phale. Mignon Nixon's catalogue essay explores Cobbing's practice as Surrealist legacy, noting that, for the Surrealists, Gradiva was an 'emblem of obsessional desire' rather than a symbol of psychoanalysis. For Cobbing, Gradiva seems to symbolise both these things.
The works belonging to Gradiva Project sit provocatively in the Freud Museum, poised between playfulness and serious engagement with psychoanalysis, an aspect of the work that Joanne Morra picks up in her essay. In the video work Earthprinter, for example, a computer printer is buried in a pile of loose earth, and I confess to a certain sense of bemusement watching printed pages spew forth like messages from the underworld. Yet when we learn of the familial resonance in this work (the pages contain poetry written by Cobbing's grandfather) it acquires a certain tenderness and suddenly the playful becomes emotive. As Morra writes of another work in the project, it evokes 'memories, desires, and wishes that are slowly unpacked in analysis'.
Jon Bird's essay tells Gradiva's tale like a detective story. Freud's travels to Rome and Pompeii, Bird reveals, displayed hisphobia of Rome as well as art historical
interests that informed his psychoanalytic thinking. Bird's sensitive curatorship grounds the show in an historical framework of psychoanalysis that we are not often privileged to see. Items from the Freud Museum's archive are on display alongside Cobbing's work and it is thrilling to see Freud's own annotated copy of Jensen's Gradiva. Gradiva is restored from the recesses of Hanold's psyche, Jensen's literary  imagination and Freud's analysis of the fictional tale. Cobbing has embraced her cipher, and her story and dreams and delusions are given material presence in contemporary London. Yet the work is not a straightforward representation of Gradiva. Yes, there is the chance to encounter Gradiva in the manner of Hanold's original encounter, but now displaced in time and space. Then, there is an opportunity to engage with psychoanalytic thinking in Freud's last home. In this way, Cobbing's dialogue with Freud is mediated by passage of time, displacement of location, and personal experience.
In the video work Excavation (2004) a figure chips away at his concrete-encased head. A chisel releases fragments of concrete, which we hear hitting the floor. There is no resolution to his plight since the video loops continuously and he is never released, but we are, as Rebecca Heald suggests in her essay, 'on a firm footing' and the work remains securely grounded in Freud's thinking. The archaeological metaphor is a persistent theme in Freud and, just as Cobbing digs beneath the surface of things, we are asked as viewers to look inward. In Untitled (Standing Figure) (2007) a life-size cast of the artist is plumbed into a doorway in the museum, bringing connections between art and its beholder, psychoanalysis and the Freud Museum, sharply into view. In Agraulidae (2007), Gradiva appears on the front of what looks like a normal household radiator on the wall but the radiator is disconnected. Reminiscent of a spectre rising from the underworld of plumbing and drainage, Gradiva prompts us to question the relationship between surface and depth, conscious and unconscious. Like the symptoms with which the analyst is confronted in the consulting room, these works demand we look deeper and unearth what is beneath their surface.
It is, however, the Gradiva manhole cover that most caught my attention. Since the cover can be lifted to permit access to what is beneath, it seems appropriate that Gradiva herself takes this form, inscribed on its surface. A manhole is, after all, a link with an underworld of dark sewers. In a similar manner, the psychoanalytic process functions to unearth that which is repressed. Just as Freud wrote of burial as symbol of repression and analysis as excavation of repressed material, Gradiva Project unearths the artist's journey.The creative experience is apprehended and given material form in the Freud Museum.The catalogue,with Gradiva embossed on its cover, has been beautifully designed. Printed on thick, heavy-gauge paper and with its grey cloth cover, itreminds me of current debates on the role of touch in the psychotherapeutic space. Perhaps now is also the time to reconsider the role of touch in the museum space too.