A site-specific project by Mexican artist Santiago Borja.
Taking as a starting point an iconic piece of furniture in the museum, Sigmund Freud's couch, Borja proposes an intervention to encourage new readings of Freud's work in relation to non-European cultures.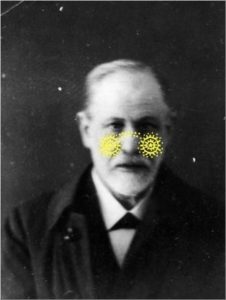 Freud revolutionised the study of mental illness at the beginning of the Twentieth Century and his formulations have informed generations of intellectuals and therapists around the world. Despite his interest in pre-industrial cultures and his desire to find universals in human nature, Freud is often accused of Euro-centrism. Borja examines Freud's legacy in a new light in which the notions of primitivism are questioned and cultural hierarchies undermined. Borja intervenes in Freud's Orientalist couch with textiles created in collaboration with a Wixarika community, also known as Huichol, in central Mexico, introducing a discordant visual element to Freud's studio filled with Egyptian, Greek, Roman and Middle Eastern antiques that he passionately collected throughout his life as traces of what was believed to be the origins of Europe.
Through this intervention, Borja highlights the difficulties that the flattening categories imposed by the West causes to those it cannot assimilate, and also takes a serious look at the Wixarika's interpretation of the world which he poetically parallels with the psychoanalytical mapping of the mental geography of the conscious and the unconscious.
Curated by Catalina Lozano
Related Resources
Santiago Borja was born in Mexico City in 1970 where he lives and works. Recent exhibitions include Décalage, Museo Experimental El Eco, Mexico City (2009); Halo (Flare), Pavillon Le Corbusier, Fondation Suisse, CIUP, Paris (2008) and Ecografia, Casa Luis Barragán, Mexico City (2007); En découdre, Fondation Espace Ecureuil, Toulouse, France (2009); Traslaciones, Casa Vecina, Mexico City (2009) and Croyances Quotidiennes, Palais Universitaire, Strasbourg France (2008). Other forthcoming projects include Process Room, at the Irish Museum of Modern Art, Dublin and Fort Da, at the Neutra VDL-Research House II, Los Angeles California.
Catalina Lozano (Bogotá, 1979) is a Colombian curator living in London.