Sleeping Beauty is a sculpture of a deceased refugee child, presumed to be from Syria, hand carved in marble using traditional methods in the style of Baroque sculptor and architect Gian Lorenzo Bernini.
Like Bernini, Franko B's practice engaged with an aesthetic dialogue between the sacred and profane. However, in Franko B's sculpture, the sacred is found in the figure of the child rendered eternally in marble and the profane found within ourselves, our leaders, our states and institutions – crystallised in the collective failure to address the worst human crisis since World War II.
In September 2015 the body of a young Syrian boy of Kurdish descent, named Alan Kurdi, washed ashore on Ali Hoca Point beach an agonisingly short distance from Bodrum, Turkey, where he and his family had paid smugglers for a small boat to take them to Kos in Greece. They were fleeing the war in Syria and undertaking the perilous journey to the safety of Europe. Tragically, their boat would capsize just 5 minutes after embarking on the two and a half mile crossing.
Within hours of the discovery of Alan's body, the media, across all platforms, was saturated with tragic images of an innocent child laying face down and lifeless at the water's edge. It was a moment that seemed to define and encapsulate the on going refugee crisis. It brought the horrors being suffered by so many to the world's attention. Alan's Image was to become a shattering and traumatic icon of the greatest of human tragedies.
In the same moment, six photographs, taken by Syrian artist Khaled Barakeh of drowned children on the coast of Libya, began to circulate on social media. Like the images of Alan Kurdi, they were shocking and spoke of the darkest truths of the refugee crisis in the Mediterranean. The images were removed from social media on the grounds of a content violation.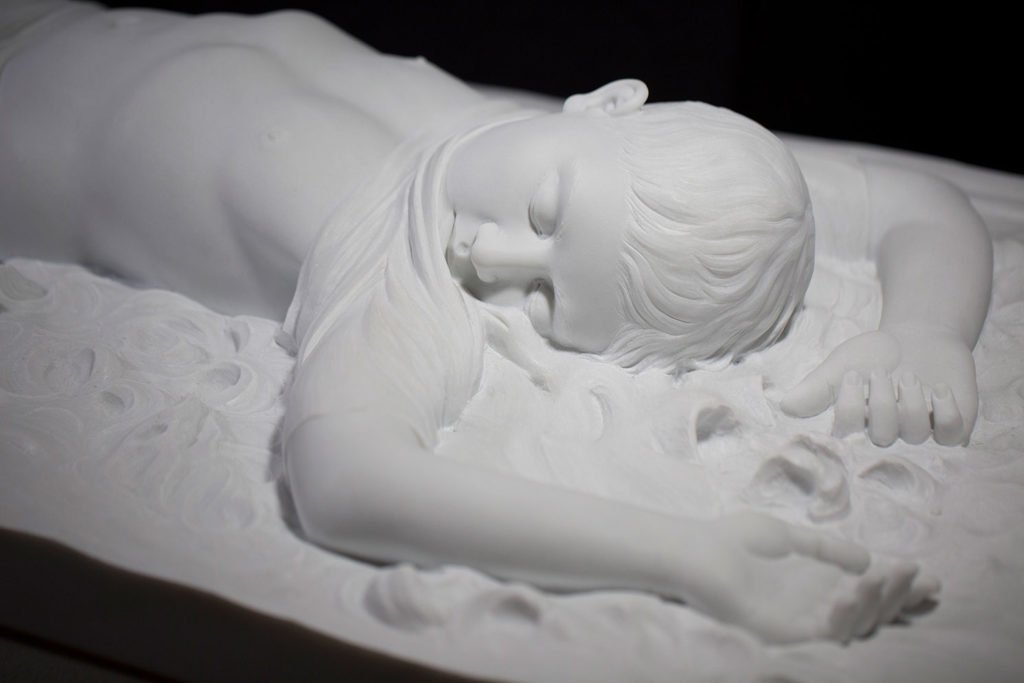 The difference in the treatment of these images, those authorised by the aesthetic moral authority of the global press and those censored by their Silicon Valley opposites, was stark and worth noting that these children, like Alan Kurdi's brother who also perished on the beach, were knowingly omitted from the meta-narrative of the crisis. The figure of Sleeping Beauty originates from these images taken and shared by Barakeh.
The practice of mass consumption and appropriation of imagery is key in Franko B's art. It reflects upon the saturation of our cultures with images, a phenomenon that has only intensified in the age of the Internet. The action of stitching and painting these works on canvas, or in this case carving in marble is a deliberate attempt to bring the ephemera of our culture into carefully considered physical form. In these gestures of permanence, Franko B has made an impossibility of mindless deletion, of forgetting and of censorship.