15 March, 6:00 pm

-

7:30 pm

Donation

Tickets for this online event are offered on a pay-what-you-can basis, with a suggested donation of £10. All ticket holders will receive access to the recording 24 hours after the event and can playback for a month.
The Freud Museum is pleased to welcome authors Jane Harris to discuss The Good Grief publication When Words are Not Enough: Creative Responses to Grief, with Dr Kathryn Mannix.
This first publication from The Good Grief Project explores the many ways that bereaved families find to express their loss. The authors' son was killed in a traffic accident in 2011. Ten years on they reflect on their journey and how they have used their creativity to survive their grief and maintain an on-going relationship with their son Josh.
In the years that followed Joshua's death, Jane Harris and Jimmy Edmonds founded The Good Grief Project, a UK based charity to support other bereaved families and to promote their understanding of grief as creative and active process. This book follows their journey. It also tells the story of 13 other bereaved people, including parents, partners, siblings, children and friends, who have also found a creative response to their grief.
The emphasis on 'continuing bonds' and their own way of maintaining a relationship with Josh, is both emotional and practical. Echoed in the other case studies they illustrate how creativity can shape a future where the deceased still play a part even while physically absent and how this is a normal and restorative aspect of the grieving process. Grief can also be a wonderful educator with new discoveries to be had.
Throughout history people have needed to talk about their grief, but much in contemporary society tells us that grief is a depressing, morbid subject. When Words Are Not Enough is a necessary counterweight to those who would have us hide grief away. In both word and image, all the stories told here, from visual story tellers who reimagine their loved ones depicted in their own lives now, to artists who have taken their children's artworks as a basis for their own creations, to those who have found peace in their music and their poetry, to some who relish the challenge of diving into cold waters as a way of connecting with their children. All are very different and uniquely creative responses to trauma following the death of a loved one and testament to the value of a shared and more openly expressed grief.
Jane Harris is a psychotherapist and bereavement specialist with over 30 years of experience in the NHS and private practice. She is also a grief educator, supervisor and public speaker​, regularly appearing in podcasts and radio.
Jimmy Edmonds is ​a photographer and documentary film editor with over 100 TV credits. He is also a Winston Churchill Fellow and BAFTA award-winning filmmaker with several critically-acclaimed documentaries to his name, including Chosen for Channel 4 and Breaking the Silence for BBC1.
Dr Kathryn Mannix worked as a palliative care doctor (and Cognitive Behavioural Therapist) for 30 years before taking early retirement to campaign for better public understanding of dying. She writes, broadcasts and speaks around the world, and finds people are hungry for better information everywhere she goes. She believes we need to reclaim dying as a personal, social and intimate time in our lives rather than a medical event, and her campaigning tool is stories. She lives in Northumberland with her husband and a small flock of hens.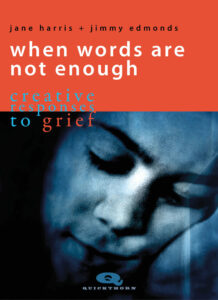 The Good Grief Project
After the death of their son at the age of 22 in 2011​, they created The Good Grief Project, a charity dedicated to a proactive approach to grief. Using ideas that flow from the concept of 'continuing bonds', as opposed to society's expectation of detachment from the deceased, they developed their Active Grief programme, comprising a series of residential retreats and workshops. Here, bereaved parents and siblings are helped to discover new and imaginative ways of expressing their grief, through activities such as creative writing, photography, physical challenges (swimming, boxing), self-care and the sharing of good food.
Their films, workshops and retreats speak to a new appreciation of what it means to grieve in a society that often has difficulty talking openly about death, dying and bereavement.