In 1914, Anna Freud started a teaching apprenticeship.
She would spend the next six years working as an assistant teacher in her old school, the Cottage Lyceum.
To reward herself for passing the entrance exams for her apprenticeship, she travelled to England.
She was in England when the First World War broke out. The British government hastily imposed restrictions on the rights and movements of foreigners, and Anna had to register with the police as an "alien enemy". She had to return to Vienna, with the Austro-Hungarian ambassador and his entourage, via Gibraltar and Genoa.
The Austrian school system
In the early 20thcentury, the Austrian school system was extremely disciplinarian. Several historians have noted that the priority was not to inspire pupils to learn, but to create obedient citizens who would accept the status quo and serve the Austro-Hungarian empire.
The Viennese author Stefan Zweig wrote of his schooling:
"I cannot recall ever having been either "joyous" or "blissful" during that monotonous, heartless, and lifeless schooling which thoroughly spoiled the best and freest period of our existence."
Teacher training did not involve the study of developmental psychology, and there was no interest in supporting children's emotional growth. It would take many decades for these to become a staple of teacher training and for a more compassionate approach to teaching to emerge (thanks in part to Anna Freud's own work). 
Teaching and war
Anna Freud trained as a teacher during the First World War. There were constant food shortages in Vienna, and little fuel for heating.
Her pupils played out the usual fantasies about their parents, but through the medium of food. One little girl boasted:
"My father, he always eats meat every Sunday."
"From the viewpoint of her little students, Anna Freud was an oasis of warmth and enthusiasm in the midst of their dreary, difficult wartime lives"

Elisabeth Young-Bruehl
She soon gained a reputation as a gifted, compassionate teacher. Her colleagues and superiors were deeply impressed, and before long she became head of the second grade.
She was also popular with her pupils. Her biographer describes her as "an oasis of warmth and enthusiasm in the midst of their dreary, difficult wartime lives."
A photo shows her with the 5th class of the school, around 1918. One of her pupils later wrote:
"This young lady had far more control over us than the older 'aunties'."
Discover more: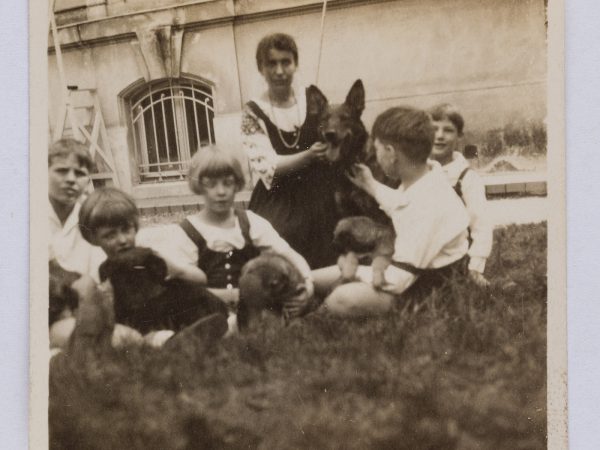 Next chapter
In contest to Sigmund Freud, Anna Freud was mainly interested in working with children.