The Audio Guide is also available in French/Français  /  German/Deutsch  /  Italian/Italiano  /  Brazillian Portuguese/Português Brasileiro  /  Spanish/Español
---
Welcome to the Freud Museum. This guide will introduce you to Freud's London home and to aspects of his life and work.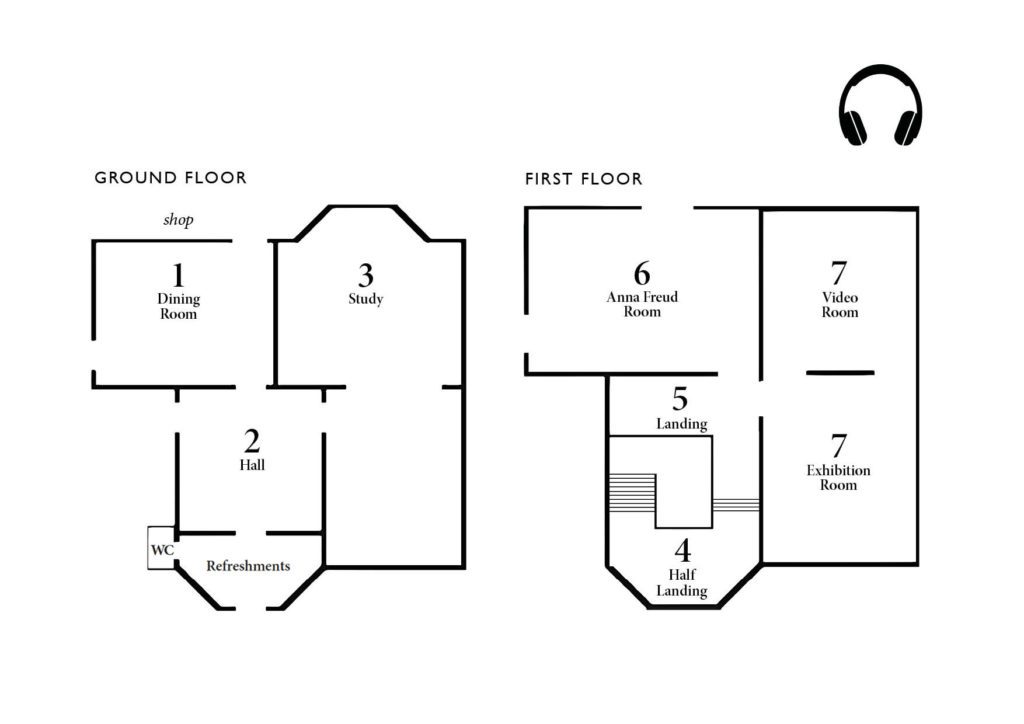 1. Dining Room
You are now in what was once the Freud family dining room. This is where the family gathered together and in the case of the Freuds that was always an extended and changing family.
2. Hall
Freud and his family arrived in England in June 1938 as refugees. He was an old man, with heart problems and cancer of the jaw, and had not wanted to leave Austria where he had lived his entire life. But already in 1933 the Nazis had burnt his books.
3. Study
You are now standing in Sigmund Freud's study. The desk at the centre of the room was the focus of Freud's life and work. It is so crowded that there hardly seems space for his papers. Freud chose to work face to face with an audience of antiquities.
4. Half Landing
As you climb the stairs you will probably pause on the half landing. This was where Freud's wife Martha and her sister Minna loved to sit at their needlework, looking out onto the street.
5. Landing
On either side of the door on the top landing hang two more portraits of Freud. They show him through the eyes of two artists – and reveal two different attitudes towards him.
6. Anna Freud Room
This room is dedicated to the life and work of Sigmund Freud's youngest daughter Anna. In the glass case to your left as you enter there is a small biographical exhibit. At the back you can see a picture frame filled with various family photos.
7. Exhibition Room
The exhibition room has displayed contemporary art exhibitions for over 30 years. The museum's reputation for innovative, exciting shows has seen collaborations with artists such as Mark Wallinger, Alice Anderson, Louise Bourgeois, Gavin Turk and more. Displayed here is the exhibition Lucian Freud: The Painter and His Family.
MAKE A DONATION
Support Us
Covid-19 is having a significant, detrimental financial impact on the Museum.
Please donate and help us to preserve the legacy of Sigmund and Anna Freud.
Text FREUD 5 to 70085 to donate £5
Text FREUD 10 to 70085 to donate £10
Text FREUD 20 to 70085 to donate £20
UK numbers only. Texts cost donation amount plus one standard rate message. Donate from anywhere in the world by card.