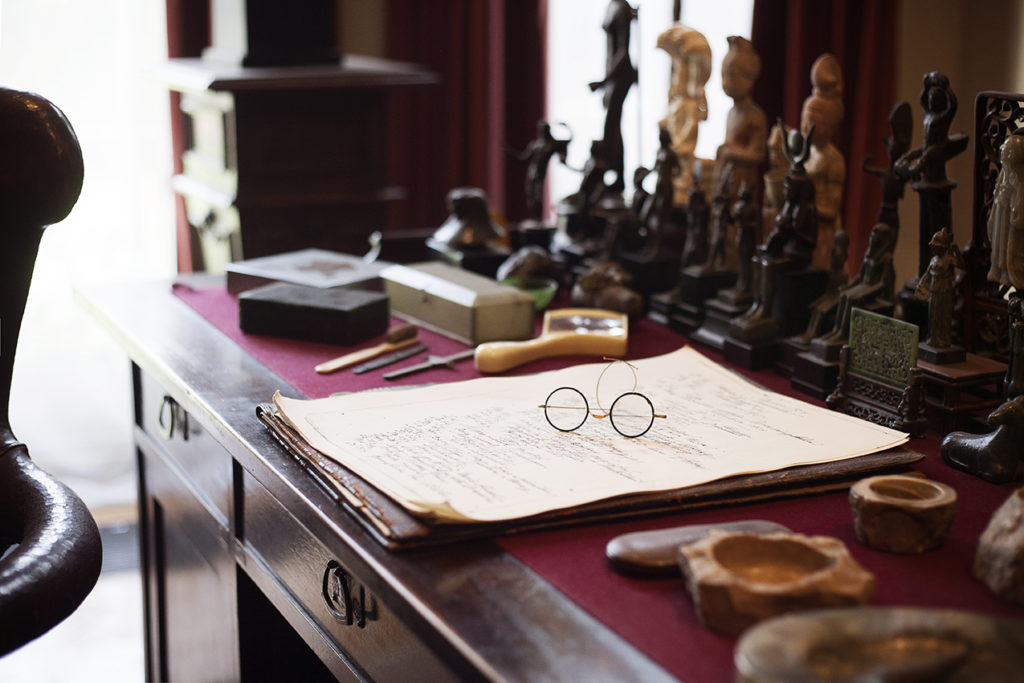 Volunteers are an integral part of the Freud Museum and we're grateful for all their support.
To celebrate the work they do we asked a couple of our student volunteers why they started volunteering at the Freud Museum, how it relates to their studies, and what they love about it. Here's what they had to say.
Elisa Schlarp
I started volunteering at the museum archives to get a better insight into archival work in English archives and to get a sense about how it is, to work in a museum environment.
This is very useful for my master course at UCL in Archives and Records Management. In the museum archive I can expand my knowledge about archiving and apply what I learned at university, particularly about cataloguing or collections care.
Especially the fact that I am a German student comes in handy, because I can translate the German documents and read the handwritten letters of Sigmund Freud.
As a history graduate I am very interested in the journey of the Freud's and especially in Anna Freud's life in England. Working in the archive with all those different documents like photographs, press cuttings and letters is very diversified and fun.
 It is a great place with lovely colleagues, a great atmosphere and a wonderful house full of history.
If you come to visit the museum you obviously have to see Freud's study. But nevertheless, Anna Freud's room is equally interesting and her work in child psychoanalysis is important even nowadays.
Siyan Zhang
Personally, the Freud Museum has been my favourite place for years, I've always attended their events and exhibitions. I think, for a small museum that doesn't receive public funding, the events team has organised extraordinary programmes. I enjoyed the events and that's why I started to volunteer for the team. I also wrote an essay about the events at Freud Museum for a module.
I've always been interested in psychology. I keep auditing classes with my friend who's studying psychology at Goldsmiths. I have been volunteering for 8 months at the museum now, I love the working vibes here, my colleagues are very friendly and willing to teach me diverse skills. I have the flexibility to learn different skills and being involved in different projects. Not to mention it's good experience to put on your CV as an artsy person who wants to find a job in the creative industries.
I'm studying MA Culture, Criticism and Curation at Central Saint Martins, University of the Arts London. As a curator, volunteering at the museum gave me the first-hand experience in the real world. I've applied what I've learnt from my work into my project planning. I'm also keen on Freud's theories. We have a monthly staff reading group for Freud's original work, it is a good opportunity to read Freud closely and share knowledge with lots of Freudians. At the same time, during my course, we have teaching opportunities to lead a reading group for BA students. I signed up for the teaching and selected Freud's Beyond the Pleasure Principle (1920) for the class.
The Freud Museum host tours every month which are led by different specialist from the museum. I highly recommend these tours as a chance to find out why we are so passionate about Sigmund Freud's last home. I enjoyed Ivan Ward's tour during the Freud & Egypt exhibition, his detailed and enthusiastic talk pulled out the thread behind each object in the museum. Ivan really inspired me with ideas about the uncanny and dreams, we exchanged some opinions after the tour, it's a tremendous honour to discuss topics you are interested in with a person who is so passionate and knowledgeable about Freud's theories.