Tom Seidmann-Freud was born Martha Freud in 1892, the daughter of Sigmund Freud's sister Maria 'Mitzi' Freud and Moritz Freud. A middle class, bourgeois family, they moved to Berlin where Moritz continued to work importing goods. The young Martha adopted the name 'Tom' at around 15, occasionally dressing in men's clothes.
In 1911 Tom travelled to London to attend art school, where she wrote and illustrated two books. Returning to Berlin, she continued her studies at the Unterrichtsanstalt des Königlichen Kunstgewerbemuseums, the Educational Institute of the Museum of Decorative Arts. Here, Tom was able to experiment with graphic design, decorative painting, engraving in wood, and copper reliefs.
Her first complete book, Baby-Liederbuch, was published in 1914. As she had done during her years of study, Tom created both the text and illustrations. She remained in Berlin throughout the First World War, working on her two next books.
After the war Tom moved to Munich to join her sister Lilly and work as a painter. In this new city she joined a circle of artists, writers and intellectuals, including the philosopher Gershom Scholem.
"At the end of the corridor of the apartment on Türkenstraße, where Escha Burchhardt moved after Heinz Pflaum's departure to Heidelberg, draughtswoman and illustrator Tom Freud, a niece of Siegmund Freud(!) and also one of the unforgettable figures of those years, resided across from her room. She was almost picturesquely ugly, unlike her somewhat older sister, Lilly Marlé, who often came to visit her and was the wife of actor Arnold Marlé."

Gershom Scholem, Von Berlin nach Jerusalem: Jugenderinnerungen. Erweiterte Fassung
In 1921 Tom married the journalist and writer Jakob Seidmann. Together they established a publishing house for children's books named Peregrin. The following year, in 1922, the couple had a daughter, whom they named Angela.
Tom's line-drawn illustrations were usually created in ink, and then filled with watercolours.  Her artistic career continued throughout the 1920s, culminating in her most famous book, Das Zauberboot (The Magic Boat) in 1929, featuring movable parts inside the illustrations with tabs to pull and wheels to turn.
The avante-garde surroundings of 1920s Berlin and Munich created an environment of creativity and imagination. In Berlin Tom and Jakob met Chaim Nachman Bialik, one of the most prominent Hebrew poets and translators at the time. Together they launched a publishing company, Ophir, with the specific mission to produce Hebrew language books for children.
"The idea of playfully adding a note of levity to the primer is old, and the newest and most radical attempt, the skillful handbook from Seidmann-Freud, does not fall outside the pedagogic tradition." Walter Benjamin, Frankfurter Zeitung, December 13, 1930.
Tom's artistic style continued to change and grow. Moving away from the more traditional Jugenstil style, using floral motifs and natural themes, she began to explore the style of New Objectivity, with its geometric shapes, straight lines and soft but bold colours. The Seidmann-Freuds published exciting children's fables like Buch der Hasengeschichten (1924), and innovative "interactive" books such as Das Wunderhaus (1927) and Das Wunderboot (1929).
Amid this creative output, the joint venture with Bialik was not a success.  When Bialik delivered only two of the five books in his contract, and none of his share of the investment, Tom and Jakob Seidmann's life savings were lost. Coinciding with the global financial crash of 1929, the loss was catastrophic. Bankrupt and without hope of recovery, Jakob died by suicide in the family's home in 1929.  Tom found his body.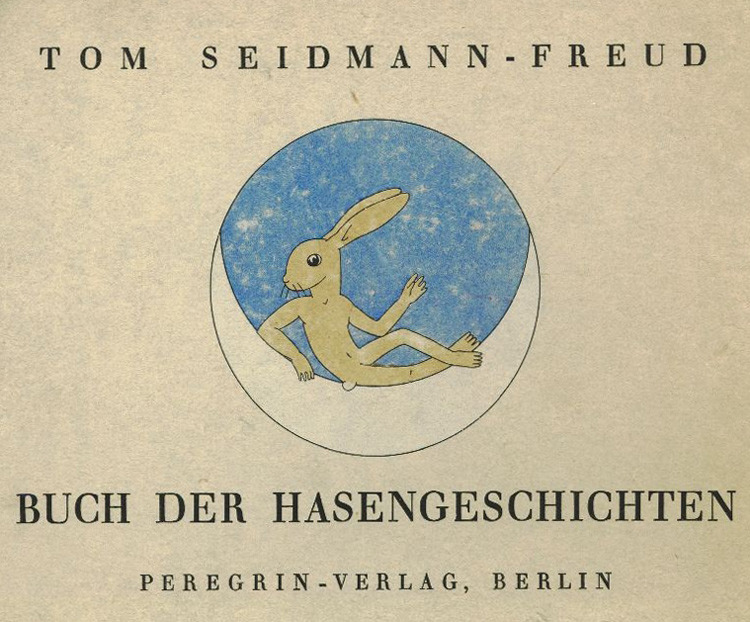 "Tom was a children's book illustrator (and author of a few) who bordered on genius."

Gershom Scholem 
After the death of her husband, Tom stopped eating and was institutionalized. She took her own life four months after her husband. Her daughter Angela was adopted by Tom's sister Lilly and her husband, the actor Arnold Marlé.
Tom Seidmann-Freud's artwork is often described as dream-like and fantastical, but unlike most illustrations for children, also dark and vaguely ominous. After the Nazis came to power they attempted to destroy her work, burning her books alongside thousands of others, including her uncle Sigmund Freud.
The books and artworks which remain are largely due to her family saving her work, resulting in a rare collection. Safe-guarded by sister Lilly Marlé after Tom's death, a number of items were then passed to Tom and Jakob's daughter. Angela, who moved to Israel and changed her name to the Hebrew Aviva, was finally reunited with her mother's work. The strange beauty of the illustrations can be seen in Anna Freud's own small collection of her books, which she kept in her library. They are now part of the museum's collection.